Customer Reviews
Write a Review
Ask a Question
Love it!
My brother was killed in combat this year. He was a stud and a special operator assigned to eliminate terrorist ****. I bought this shirt one day when my heart was hurting and angry about loosing him. I love to put it on! There is power and comfort in those words for someone like me. #supportourtroops #greenberetsrock #neverforget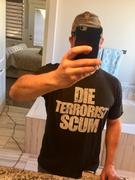 Great shirt
Awesome shirt! Soft material and good fit. The only problem I had was that the neck hole seemed kind of big.
Die terrorist **** shirt
American as all ****. Love to see the reactions of the spineless liberal morons while wearing it
Bad *** shirt
Excellent shirt, material is comfortable and get alot of compliments!
Die Terrorist **** Shirt
My son bought this shirt a few months ago but then lost it. He was really disappointed because he got so many compliments on it. I just had to buy him another one for Christmas. He loves your shirts.