Customer Reviews
Write a Review
Ask a Question
Filter Reviews:
hoodie
quality
color
Washington
signature
commitment
material
mind
rock
eyes
G.W.'s spirit
As I threw on the Washington HQ hoodie I felt the spirit of Washington over take me. I was suddenly a master of strategy and possessed a wisdom that our magnificent country hasn't heard in over 250 years. I began moving troops in my unit to different parts of the base as to better secure the integrity of our mission. I then delivered a speech to inspire the base populace, and as I was finishing a bald eagle came and landed on my shoulder. The crowd cheered as I looked on with pride. I am now locked up in the mental health ward of the base hospital, but at least I'm warm.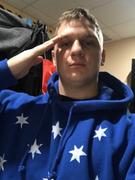 Quality Hoodie
Not only is this hoodie a great and patriotic design, but the overall quality is outstanding. Having become used to polyester blend hoodies, I was at first surprised to feel the heaviness of this one. That is in no way a bad thing, as the weight contributes to an astounding level of comfort and warmth. The cotton is quite obviously high quality and this hoodie has the feel of that well-worn, favorite hoodie from back in high school, but right out of the package. As always, 1776 United continues to impress and has earned my loyalty as a customer. - Liberty or Death P.S. I did wash it inside out before wearing it, and have had no issues with excess lint or fabric pills after wear. Also, pay attention to the care instructions if you do not wish to shrink it. Given that I am a relatively "aerodynamic" fellow, I intentionally put mine in the dryer and it shrunk slightly, to a perfect fit.
Thanks for the awesome review! And yes, washing it inside out will help eliminate the excess lint the hoodie may have the first time you wear it. So we always recommend to wash our hoodies inside out the first time!
Washington's HQ Flag Hoodie
Very High Quality Hoodie. Would Recomend Washing Inside Out To Help With Excess Lint. Also There Were Alot Of Loose Threads On Seams.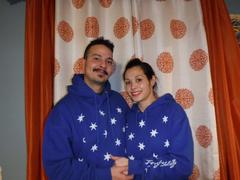 Hey Lorenzo! Thanks for the review! Yes washing inside out the first couple times will help remove excess lint and any left over threads (usually there aren't many) but it will help with the lint issue.